Three hours from Tokyo by Shinkansen, bullet train, and a few local trains later, you would arrive at a processor tied to tradition.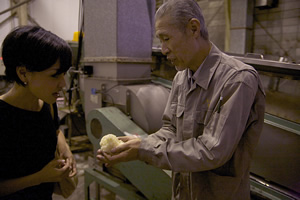 Toshio Sumiya, the third generation in his family to run the Sumiya Bunjiro Brewery Co., Ltd., in Hekinan city, Aichi, Japan, processes glutinous rice into mirin, a liquid cooking seasoning. Sumiya's operation with 18 employees brews mirin with only rice, in a nearly two-year process, "Brewing as much mirin from as much rice," as his company's website said.
Traditional mirin keeps its alcohol content (it is considered sake, reading 14 percent alcohol content), but some modern methods remove the alcohol to become "salt mirin" or "new mirin," according to Sumiya's company website. Traditional mirin became uncommon in Japan as ingredients, such corn products, were added for sweetness in the 1900s. This increases the places mirin can be sold, Sumiya said, but there are quality differences.
Sumiya's company has certified organic status that is among the titles he has to show for the quality of his products. His operation became certified organic by the Organic Crop Improvement Association starting in 2000. The operation was one of the first handled by the OCIA Japan office, now in Chuo, Tokyo. Kazuko Moriyama, OCIA Japan's representative director, and two other staff have worked with operations such as soy sauce processors, tea operations, sake brewers — such as for mirin — and many more.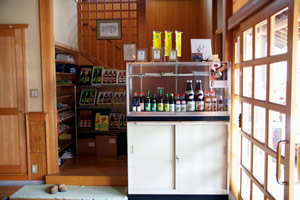 Sumiya said he used organic rice for about 30 years and notices the taste of the organic mirin is more flavorful compared to non-organic mirin. It's sweet with a bite. Sumiya published a recipe book using mirin for beauty and health, along with macrobiotic chef Mayumi Nishimura, the personal chef of Madonna, who said it helped her own children's food allergies. She carries this mirin in a bag when working to Madonna's World Tour, where it's hard to find, Sumiya said.
Sumiya exports some mirin out of Japan, but he said more rice growers are needed to keep up with demand. He sources rice from 28 growers. Markets are changing, too. More people are eating wheat products in Japan and mirin's sake status sets it outside an organic equivalence between the U.S. and Japan. Sumiya said his operation will continue to run, even with these changes in the marketplace.
The OCIA Family Spotlight is a series of stories about OCIA members, in celebration of the International Year of Family Farming.
CONTACT
Date Published: August 27th, 2014
Author/Title: Demetria Stephens, OCIA International Board Member
E-Mail: sandnuri@gmail.com
Phone: (785) 678-2475
Address: 2852 F Lane
Jennings, KS 67643